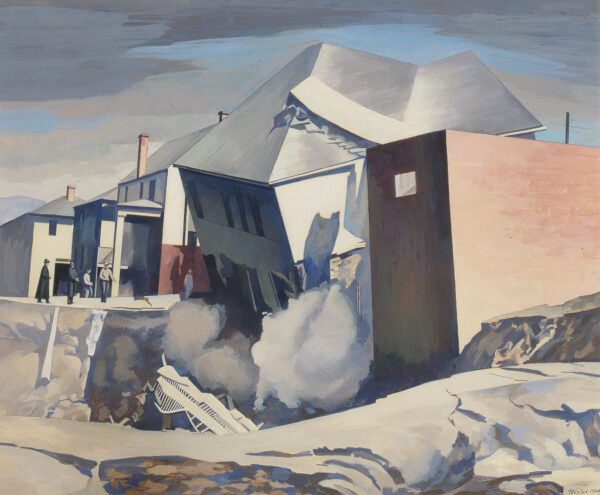 Catastrophe No. 2
Sheeler, Charles
1944
---
Artwork Information
Gouache and graphite on paper

Wichita Art Museum, Roland P. Murdock Collection
---
About the Artwork
The clearly delineated and sharply depicted subject matter of his canvases of the mid-twenties earned for Charles Sheeler the title of "Precisionist." By the mid-forties, his pictorial associations with the subject are less dependent upon direct and easy identification. In Catastrophe No. 2, Sheeler's earlier complex literalism has given way to an abstract realism in which he asserts the underlying geometric structure of his subject.
Of the painting the artist wrote:
"I found the subject of the painting Catastrophe . . . in a small town in a flood area. It interested me primarily because of the contrast of stability and instability of forms. The falling house portrayed at one moment in the progressive arc of its movement related to the buildings and rocks, which retain their static positions."
"Then too we have the sky, always an area of transitory forms, adding to the variable elements of the picture. Contrasts are of general interest to me in the variety they may afford through scale function and material substance."1
1. Letter from Sheeler to Elizabeth S. Navas, July 19, 1944.