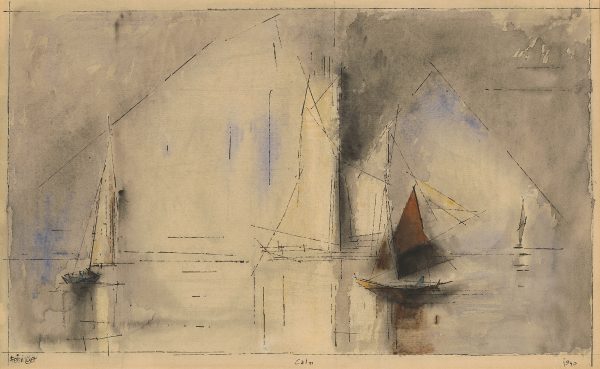 Calm
Feininger, Lyonel
1940
---
Artwork Information
Watercolor and ink on paper

Wichita Art Museum, Roland P. Murdock Collection
---
About the Artwork
Like John Marin, Lyonel Feininger was an American painter who worked extensively in the medium of watercolor and who played an important role in the modernist art movements of the early 20th century. Although he was born and died in New York, Feininger lived, painted, and taught in Europe for 50 years. While in Paris in the first decade of this century, Feininger began to create his own adaptation of the cubist and the futurist styles.
In 1913, in Berlin, Feininger exhibited with the symbolist group calling themselves Der Blaue Reiter. Avant-garde architect and theorist Walter Gropius selected Feininger along with Gerhard Marcks as the first two artists to teach at the Bauhaus when it opened in Weimar in 1919.
Feininger concentrated upon the subjects of urban architecture and seascapes with boats. He translated his subjects into simplified patterns of geometric shapes, fragmented planes of color, and thin broken lines. However, Feininger in no way denied the importance of subjective feeling. He communicated a melancholy poetic mood through his sensitive manipulation of line and delicate color washes. The subject matter of Calm is largely limited to architectural element: angular waves and precise, sharp-cornered clouds accompanied by sailboats.