Close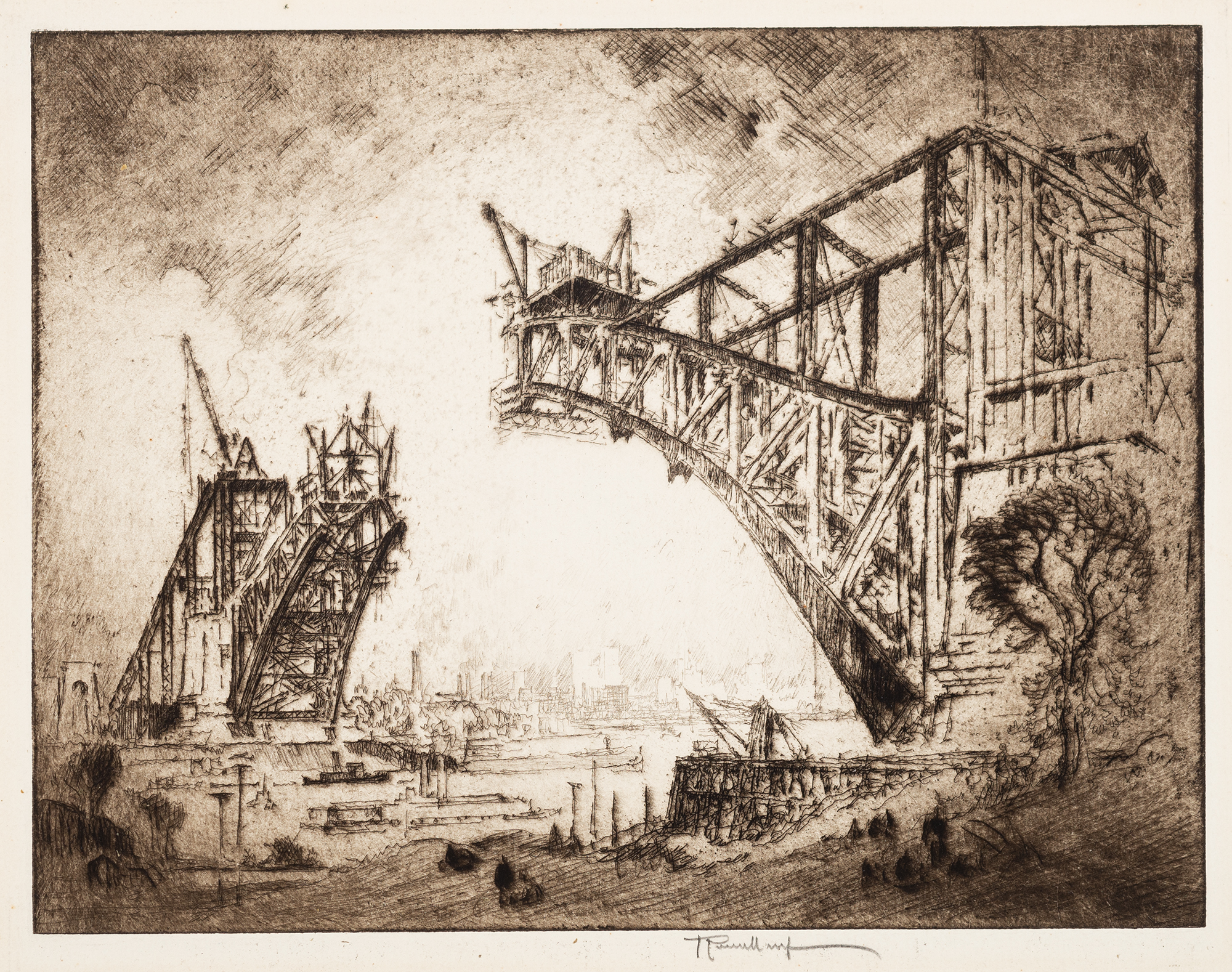 Bridge at Hell Gate, The
Pennell, Joseph
1915
---
Artwork Information
Wichita Art Museum, L. S. and Ida L. Naftzger Collection of Prints
---
About the Artwork
Joseph Pennell (American, 1860-1926)
The Bridge at Hell Gate, 1915
Etching on laid paper, 9 7/16 x 12 7/16 in.
Wichita Art Museum, The L. S. and Ida L. Naftzger Collection of Prints
1943.153
            Pennell, one of the most talented American printmakers of the late 19th and early 20th centuries, was a poet of architecture, Beginning in the early 1890s, he embarked upon extensive travels—to England, Spain, France, Belgium, Germany, Greece, and across the United States—to record the architectural monuments of classical antiquity, the Gothic period, the Renaissance, and the industrial revolution. Pennell was a master of numerous printmaking techniques, including etching and lithography, as well as of the media of watercolor and charcoal.
            Born in Philadelphia, Pennell began etching in his youth. He studied the prints of Mariano Fortuny, Francis Seymour Hayden and James McNeill Whistler in a local collection. Although he did not actually work with Whistler, Pennell and his wife became friends and biographers of the expatriate American artist. Throughout Pennell's career, Whistler remained a source of inspiration: Pennell ranked Whistler with Rembrandt as the two "greats' of printmaking.
            The techniques and imagistic qualities which link Pennell's work to Whistler and to Impressionism are many: drawing directly on the copper plate to achieve an immediate, spontaneous response to the subject; focus upon a subject from unusual viewpoints, particularly the aerial view; asymmetry in composition; a preference for interpretive tonal effects over descriptive detail; and the translation of architecture and setting into a unified pattern of light.
            Pennell established his own unique artistic vision in his celebration of contemporary industrial/commercial architecture as the proud symbol of modernity. In Pennell's imagination the New York skyscraper constituted the modern equivalent of the Gothic cathedral.