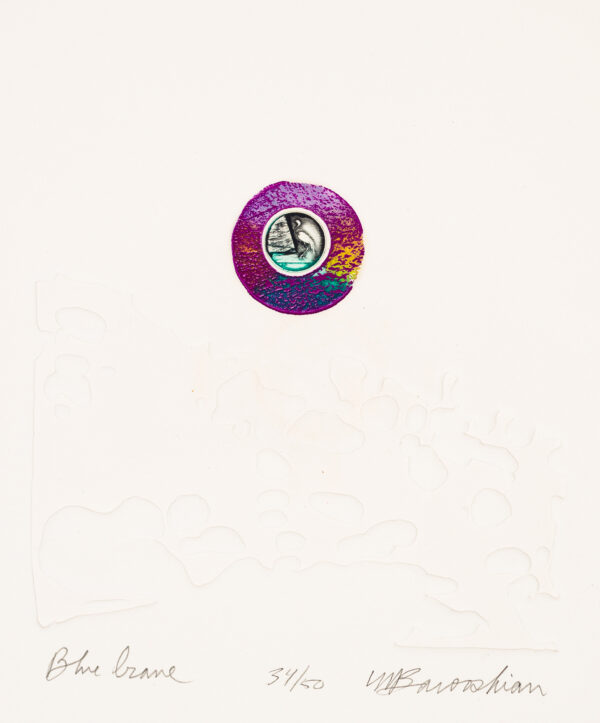 Blue Crane
Barooshian, Martin
1971
---
Artwork Information
Color etching with embossing

Wichita Art Museum, Gift of David A. Dorsky
---
About the Artwork
Excerpts from a published text for the exhibition:
The Inner World of Martin Barooshian: A Retrospective Exhibition 1952-1983
By William P. Carl
Duxbury Art Complex Museum, 1983
Inspired by anonymous miniature book illustrations of the early Christian era, Albrecht Dürer, the mystical art of William Blake, and in particular Paul Gauguin's woodcuts, Barooshian developed his own special approach to the medium of printmaking. Termed the "elimination process," this technique is highly successful yet risky, and does not allow for many mistakes. In his own words, the artist describes the procedure:
"You start with the lightest color after white, and print your entire edition first with yellow, then you cut away all the areas you wish to preserve yellow, and then print the next darker color, etc., thus continuously cutting away areas until you reach the master black and white image.  This technique guarantees perfect registration each time the block is over-printed.  Other artists prefer multiple blocks for printing, but this can cause possible mis-registration in the printing."
Since about 1956, Barooshian has been fascinated by fantastic art and surrealism.  He cites the work of Miró, Matta, Dali, and in particular Arshile Gorky, as contributing to the development of his mature style. Barooshian shares with them an artistic commitment to exploring the subconscious mind.  Imagination, fantasy, and freedom of thought are of paramount importance to this philosophy.  And at a time when Barooshian's aesthetic philosophy was emerging and taking shape, his technical skills as a graphic artist received new impetus. In Paris, in 1956, he studied intaglio printmaking with Stanley W. Hayter at Atelier 17. This experience was profoundly important for Barooshian and for many other artists, including Picasso, who came to know and work with this important innovator and teacher. In his own words, Barooshian describes some of the technical procedures which emerged from the Atelier 17 experience:
"The viscosity technique of printing on metal etching plates was developed in an international collaborative venture with Krishna Reddy, Kaiko Moti, Shirley Wales, Dadi Wirtz, and S.W. Hayter in his Atelier 17 Workshop in Paris.  It was introduced to me by Shirley Wales who very patiently helped me work out various ways of cutting and biting (with acid) various levels of the metal structure so that after one inks the basic plate, the colors that roll over the metal will effect only the areas the roller is adapted to go over, i.e. a soft roller will effect all the grooves in the metal plate, whereas a very hard roller of color going over the surface of an etching plate will only effect the surface.  I have modified this technique for my own needs since non-objective, pure abstract art is more suitable for this technique.  My method is called 'color intaglio etching'…many of my plates incorporated softground and aquatint along with deep bite etching to create my imagery along with surface rolling."
Regarding the prints, it is not uncommon for Barooshian to select several different types of printing papers and emboss patterns into the paper as part of the total concept.  Such embossments can become quite complex, particularly when combined with decorative, ornamental borders and brilliant, jewel-like coloration. Furthermore, he will frequently impress round, symbolic medallions into the design itself, thus creating, in effect, a print within a print. The medallions are thoughtfully chosen and compliment the theme under consideration. This device is pure Barooshian and a further confirmation of the artist as a skillful technician and craftsman.  This aspect of his work is evocative of the decorative artistry of Persian miniatures or intricate medieval illuminated manuscripts.
Mystery, humor, romance, eroticism, lyricism, line, color, and the subconscious mind are all part of the artistic concerns of Martin Barooshian. He is a technician and a thinker.  He acknowledges the work of others and yet has innumerable ideas of his own to contend with and make visible.  His art is not voguish or predictable. His art invites us and encourages a contemplative spirit as we peer more closely and carefully.  In the graphic arts as well as in oils, Martin Barooshian delights in the known and the unknown, and he explores both worlds with inspired technical finesse.