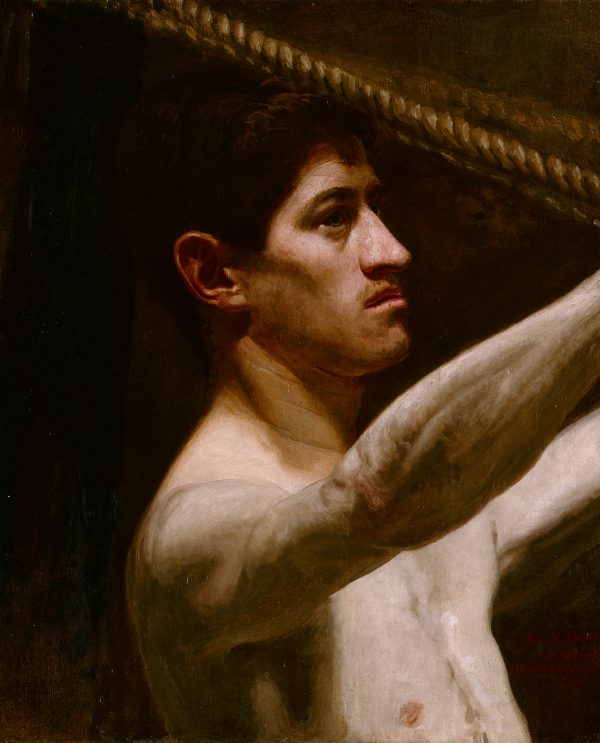 Close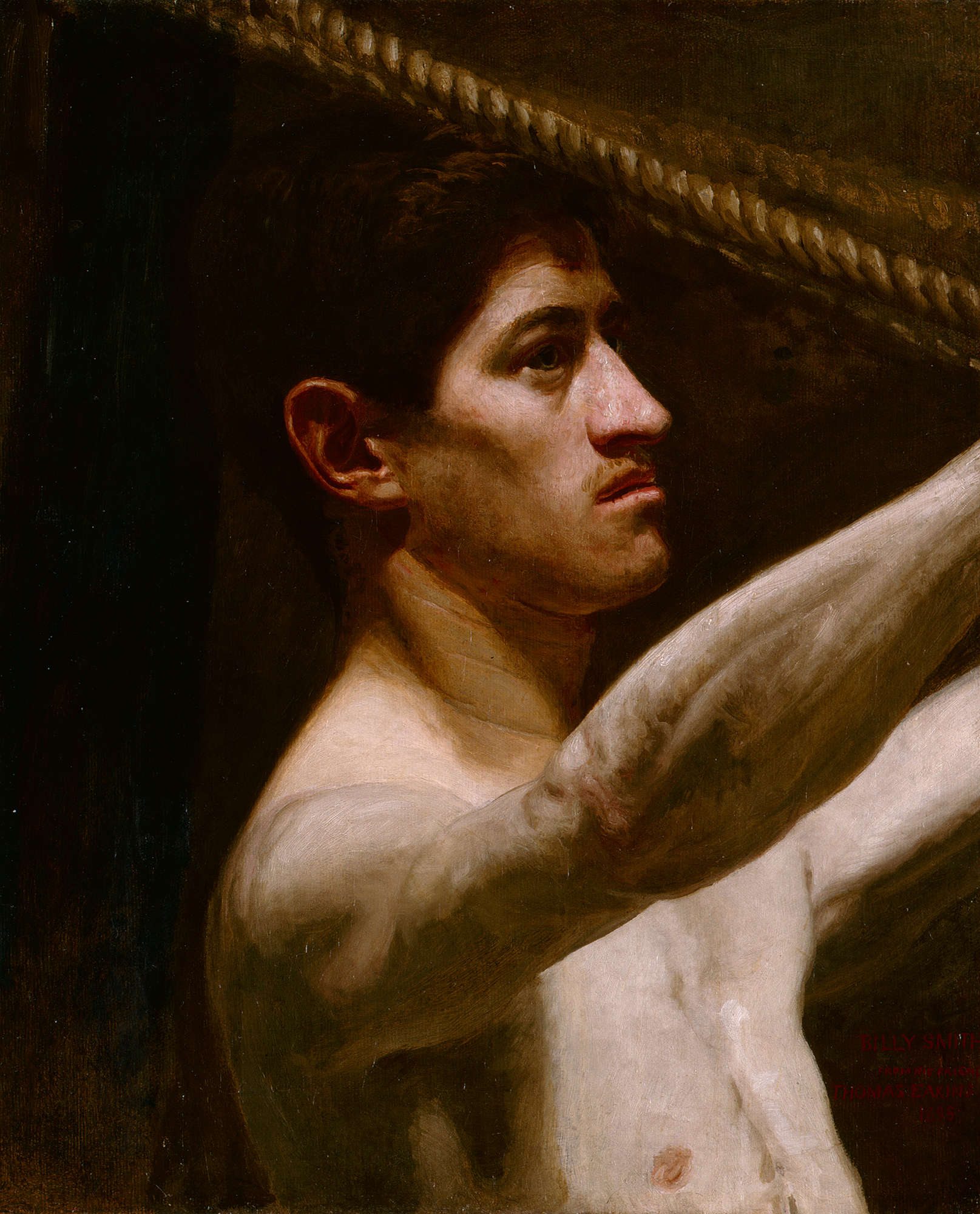 Billy Smith
Eakins, Thomas
1898
---
Artwork Information
Wichita Art Museum, Roland P. Murdock Collection
---
About the Artwork
Thomas Eakins's Billy Smith marvelously exemplifies both the virtuoso realist style and intense psychological portraiture for which the artist is best known. Although executed as an oil study for a larger canvas, entitled Between Rounds (1899, Philadelphia Museum of Art), the painting, like most of Eakins' smaller studies, stands on its own as a sensitively rendered, finished portrait. The sitter, south Philadelphia boxer "Turkey Point" Billy Smith, received the portrait from Eakins as a gift, and kept it until late in his life, when it was purchased by the Wichita Art Museum. When asked to comment on his involvement in the painting and his friendship with Eakins, Smith gave a simple response that conveyed the high esteem in which he held Eakins both as a man and an artist:
It was 1898, when Mr. Eakins came to a Boxing Club, to get a modle [sic] for his first fight picture, titled Between Rounds. He choose [sic] me… Mr. Eakins, to Me was a Gentleman and an Artist, and a Realist of Realists. In his work he would not add or subtract. I recall… I noticed a dark smear across my upper lip, I asked Mr. Eakins what it was, He said it was my mustache, I wanted it of [sic], He said it was there, and there it stayed. You can see that he was a Realist.l
The influence of the Spanish realists Velazquez and Ribera on Eakins's work, strengthened by Eakins's formal training in anatomy and medical illustration, is perceptible in his sensual and unflinchingly honest handling of Smiths figure. The skill with which Eakins renders Smiths physical attributes—the powerful forearms reaching toward the ropes, the strong bone structure of the face, the grayish-yellow skin pallor that the indoor sport induces—is uncompromising in its naturalism. Even more striking is how accurately Eakins conveys the essence of the fighter in a moment of trance-like concentration, capturing an aspect of the psychology of the brutally physical sport.
Smith's eyes peer out from under the shade of his brow with a mixture of determination and fear, and the muscles of his neck and shoulders strain with tension. The paintings smoky palette and dramatic chiaroscuro further convey both the anxiety of the pugilist preparing for battle and the musty excitement and mystery surrounding the prizefight. The tension and anxiety of this portrait seem connected to the outcome of the real match upon which this study, and its subsequent painting, was based: the semi-windup at the Philadelphia Arena, on 22 April 1898, which Smith lost to fellow featherweight Tim Callahan.
After posing for Between Rounds and Salutat (1898, Museum of Art, Carnegie Institute, Pittsburgh), another of Eakins's large boxing pictures, Billy Smith became a companion and a comfort to Eakins until the artist's death in 1916. When the elderly Eakins could no longer move around his house in the months before his death, Smith relieved his pain with therapeutic massages and moved the artist from room to room when his legs failed him. As Smiths reflections on his portrait attest to the esteem in which he held Eakins, so the painting itself seems to manifest the equally high regard in which the artist held the fighter. As art historian Britt Steen Beedenbender has written about this striking portrait: "The study of Billy Smith is a celebration of humanity and a reminder of the heroism within all men."2
William Smith, letter to Maynard Walker Galleries, New York, 15 August 1940, registrar's files, Wichita Art Museum.
      2. John Wilmerding, ed., Thomas Eakins (Washington, D.C.: Smithsonian Institution Press, 1993), 135.