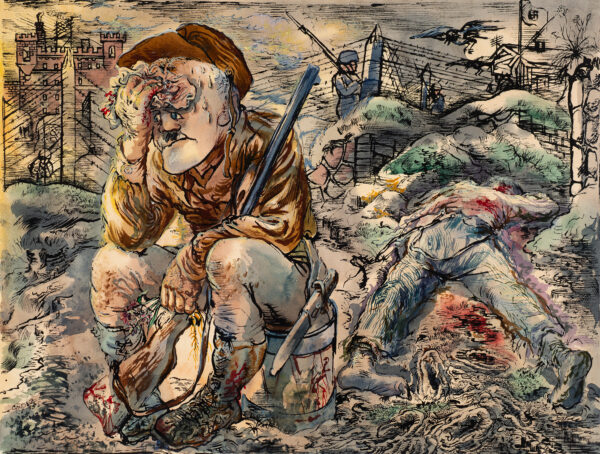 Beware of Him Whose Eye Is Cold
Grosz, George
1935
---
Artwork Information
Beware of Him Whose Eye Is Cold

Ink and watercolor on paper

Wichita Art Museum, Roland P. Murdock Collection
---
About the Artwork
Premonitions of World War II appear in a series of watercolors by Grosz done in 1934-35. The new direction of these antiwar themes, which include Beware of Him Whose Eye Is Cold has been noted by John I. H. Baur:
"While they share with his German work an anti-war spirit, they are different in nearly every other respect. Where the German drawings dealt principally with the social evils of war, the American paintings turned directly to the brutality and destruction of war itself. Where the German work was related to the incisive and rational approach of the satirists like Daumier, the American pictures were in the romantic, North Gothic, terror-haunted tradition of Grunewald and Bosch, artists for whom Grosz' admiration has steadily grown."1
Grosz' obsession with the brutality of war is reflected in his comments of the painting:
"The man in the brownish and stained shirt, brooding and bewildered, is mopping his forehead, as if suddenly awakened from something utterly terrible, something in which he played a role or took part in. Maybe he dreamed all that, but around him is grim reality, in the background a caserne, barbed wire fences, guards patrolling and there are certainly, prisoners. What are his wilted flowers in his brutal hands? Uprooted dreams, dreams which once had been beautiful, now wilted away, strangled by his fingers. He sits on a drum, sunken deep in mud. Once he used to march to the beating of this drum. Someone is lying face down behind him—could this be his conscience—or is it his fellow man, his brother, his comrade or his better self now dead, lying down in the mud."2
"A painter never or very seldom can explain all of a painting, only part of it. Many a hidden meaning escapes him, because often he does follow the sheer enjoyment of line and color. Subject matter disappears when the organization beings, therefore, this painting is not a journalistic one. I tied to knit it into a higher symbol, so that those to come may get a little of my feeling in our cloudy time and our days of apocalyptic foreboding. Near it is to those medieval masters like Hieronymus Bosch or Altdorfer."3
John I. H. Baur, George Grosz, published for the Whitney Museum of American Art, New York, Macmillan Co., New York, 1954, p. 37. Letter from Grosz to Elizabeth Navas, April 5, 1943. Ibid.