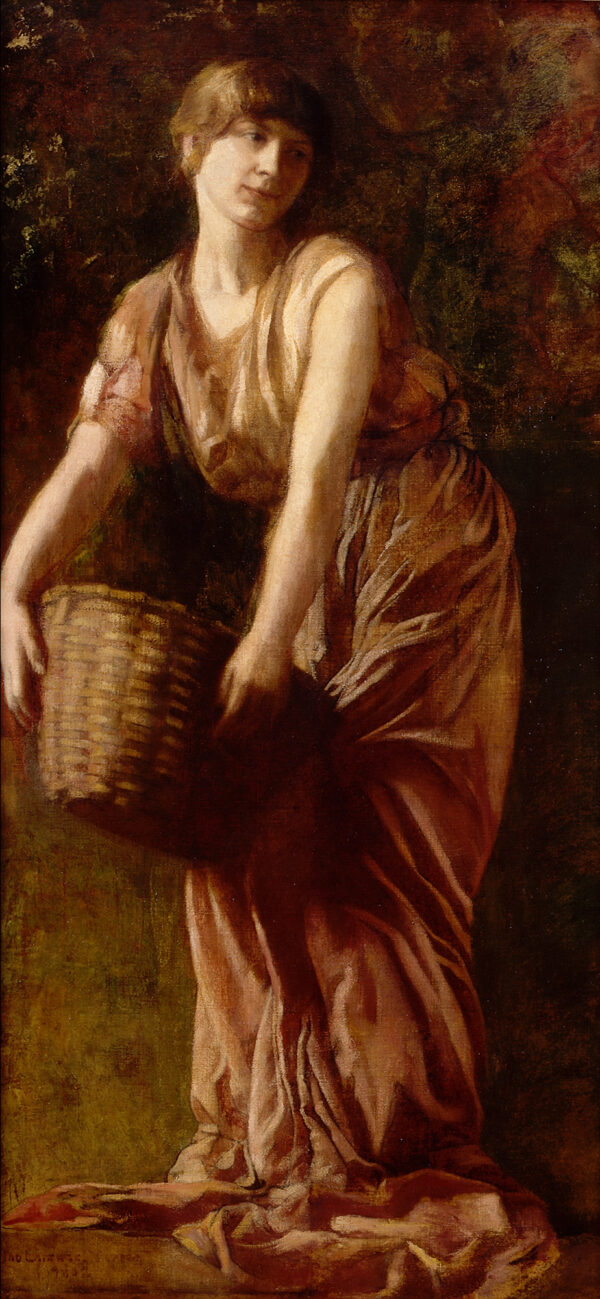 Close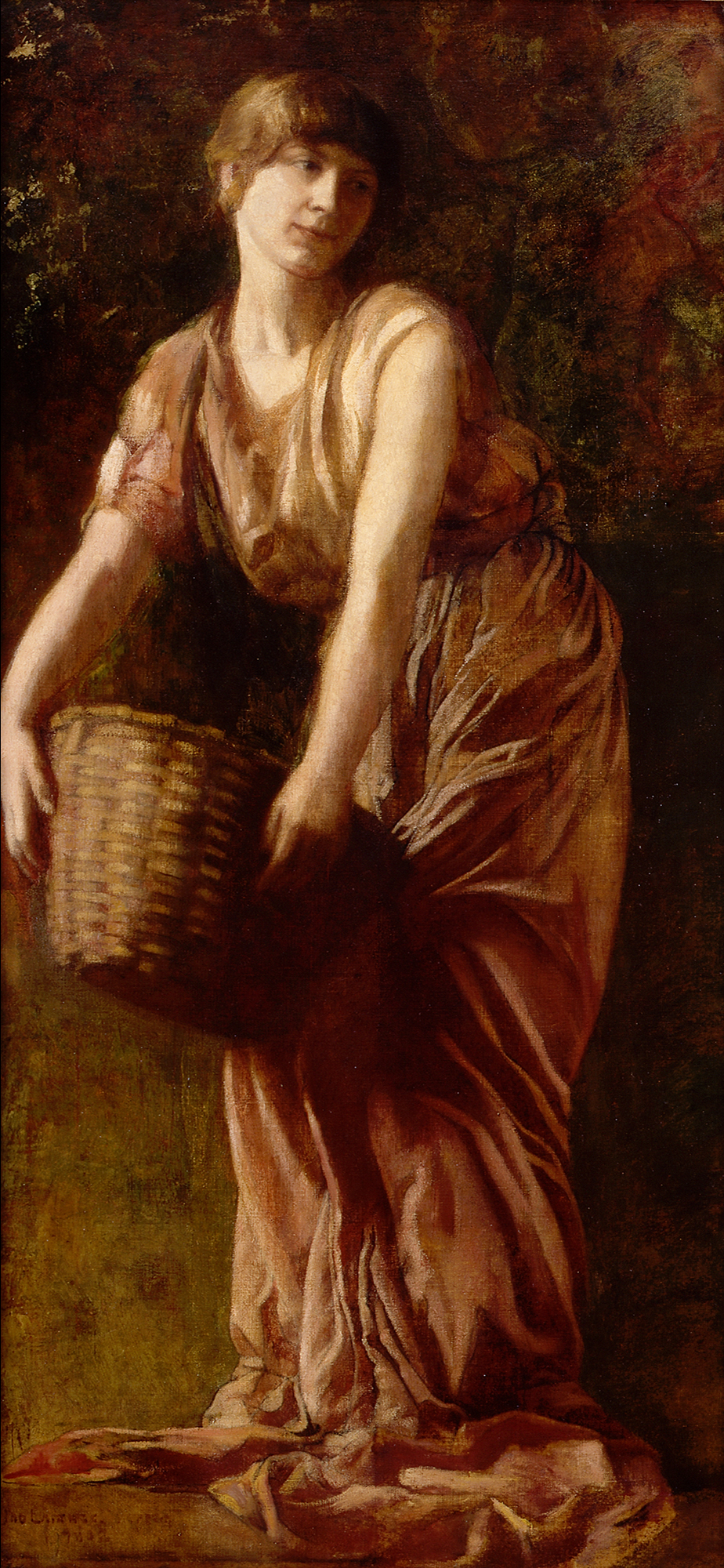 Autumn
La Farge, John
1882
---
Artwork Information
Wichita Art Museum, Museum purchase with funds donated by Vulcan Materials Company, Chemicals Division
---
About the Artwork
John La Farge (1835-1910)
Autumn, 1882
Oil on canvas
55-1/4 H x 27-1/8 in.
Wichita Art Museum, Purchased with funds donated by Vulcan Materials Company, Chemicals Division
1982.5
This large and commanding allegorical painting, ti­tled Autumn, was executed by the noted 19th century American artist John La Farge in 1882. Here, a young woman poses as she holds a large basket in which the fruits of the autumn harvest will be collected. The red-brown colors of her flowing robe, which falls in deep and abundant folds coupled with the vividly rich but subtle tones in the background are appropriately employed to suggest both the mood and the color scheme of the autumn season.
Allegorical statements such as this are essentially foreign to the thought of America today. Yet a century ago when La Farge painted this work, Autumn, such im­ages were indeed popular not only as expressions of "high" culture for the homes of America's post-Civil War nouveau riche but also as designs for murals and large stained glass windows in churches, banks, schools, libraries and other public buildings. Like many other works of the period, Autumn typifies a tradition often known as the "Genteel Tradition" which found inspira­tion in early European sources. For not only the allegorical subject matter, but the painterly technique and the Baroque exuberance as well are quite typically European in derivation. Yet it was not the primary in­tent either of La Farge or of other artists working in this manner to imitate simply for the sake of imitation but more importantly to discover, explore and transmit the heritage of the European past to American soil as a basis for elevating American taste and ultimately equip­ping American artists to develop a purely American style. In retrospect it becomes clear that an American art based on American imagery such as was produced by the Ash Can School at the turn of the century or the American Scene painters of the 1930s, did not emerge directly out of this Genteel Tradition but rather came about through a complete repudiation of that tradition. Nevertheless, the sophisticated approach implicit in Genteel Tradition paintings such as this work by La Farge represents an important phase in the history of American painting and was a significant expression of one wing of American thought as the 19th century drew to a close.
John La Farge was born in New York City of French ancestry in 1835. In 1856 he traveled to Europe. After returning to the States he studied painting under the American painter William Morris Hunt. In 1869 he was elected to the National Academy of Design and soon thereafter won much recognition as a pioneer in American mural painting and especially for works that he executed for the then recently completed Trinity Church in Boston. La Farge also experimented in new techniques in the production of stained glass windows and executed some of the most important late 19th cen­tury murals in America including those at Bowdoin Col­lege in Brunswick, Maine; The Church of the Ascen­sion, New York City; and the Court House in Baltimore, Maryland. It is interesting to note that La Farge designed a massive stained glass window for the William H. Vanderbilt mansion in New York City about 1885 and used this painting as a model for one of the principal figures in that window.