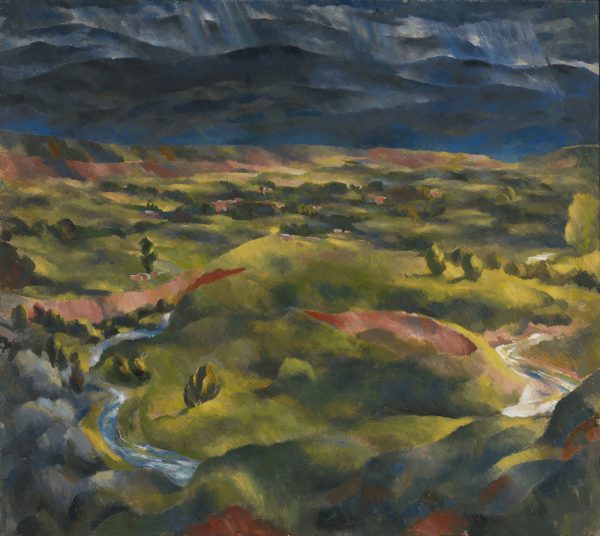 Close
Arroyo Hondo
Davison, Edmund L.
about 1924–44
---
Artwork Information
Wichita Art Museum, Gift of Dr. and Mrs. Charles Rombold
---
About the Artwork
Edmund Davison earned distinction not only as a painter but also as the person most responsible for creating a bridge between Wichita and the Taos art colony. Davison started his working life in the family business, the Commercial Bank on North Main, Wichita, KS. However, his personal ambitions inclined toward art. With the encouragement and example of artists like Birger Sandzén, C.A. Seward and Charles Capps, Davison gradually exchanged banking for a fulltime occupation as artist.
Advised by friends to see Taos, Davison's wife Faye went to visit the art colony in the summer of 1920. She became acquainted with many of the members of the Taos Society of artists such as Walter Ufer and Victor Higgins. Faye invited the Taos artists to visit her and her husband in Wichita and the Davison home developed into an outpost of Taos artistic society over the next decade. The Davison's traveled regularly to Taos in the summers. In the winters they invited their artist friends to come up to Wichita for lectures and introductions to Wichita artists.
In 1933, when he was fifty-six years old, Davison closed the bank so that he could devote himself wholly to his artistic career. He and Faye spent much of the year at their house in Taos, which was next door to Walter Ufer's property. Davison became acquainted with B.J.O. Nordfeldt in 1934 and arranged for this Swedish immigrant to meet his fellow countryman and cultural leader, Birger Sandzén. Davison was also responsible for introducing many young Wichita artists, such as William Dickerson, to the Southwest.