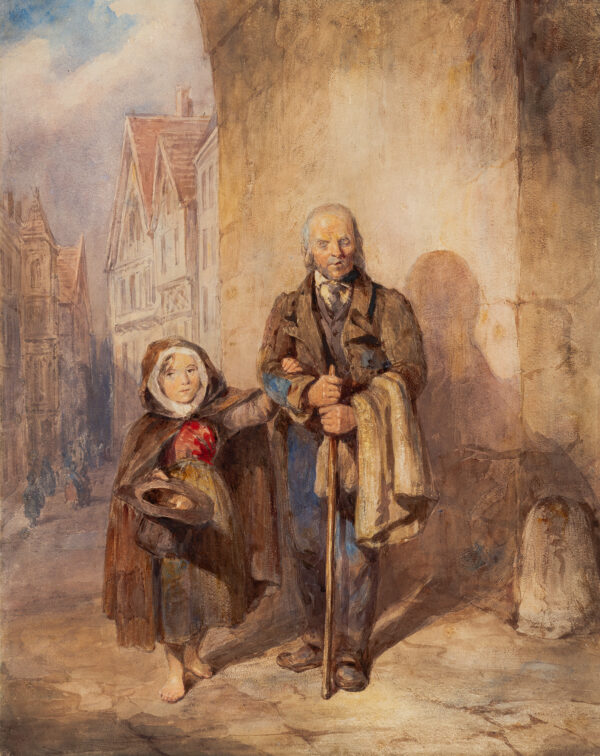 Close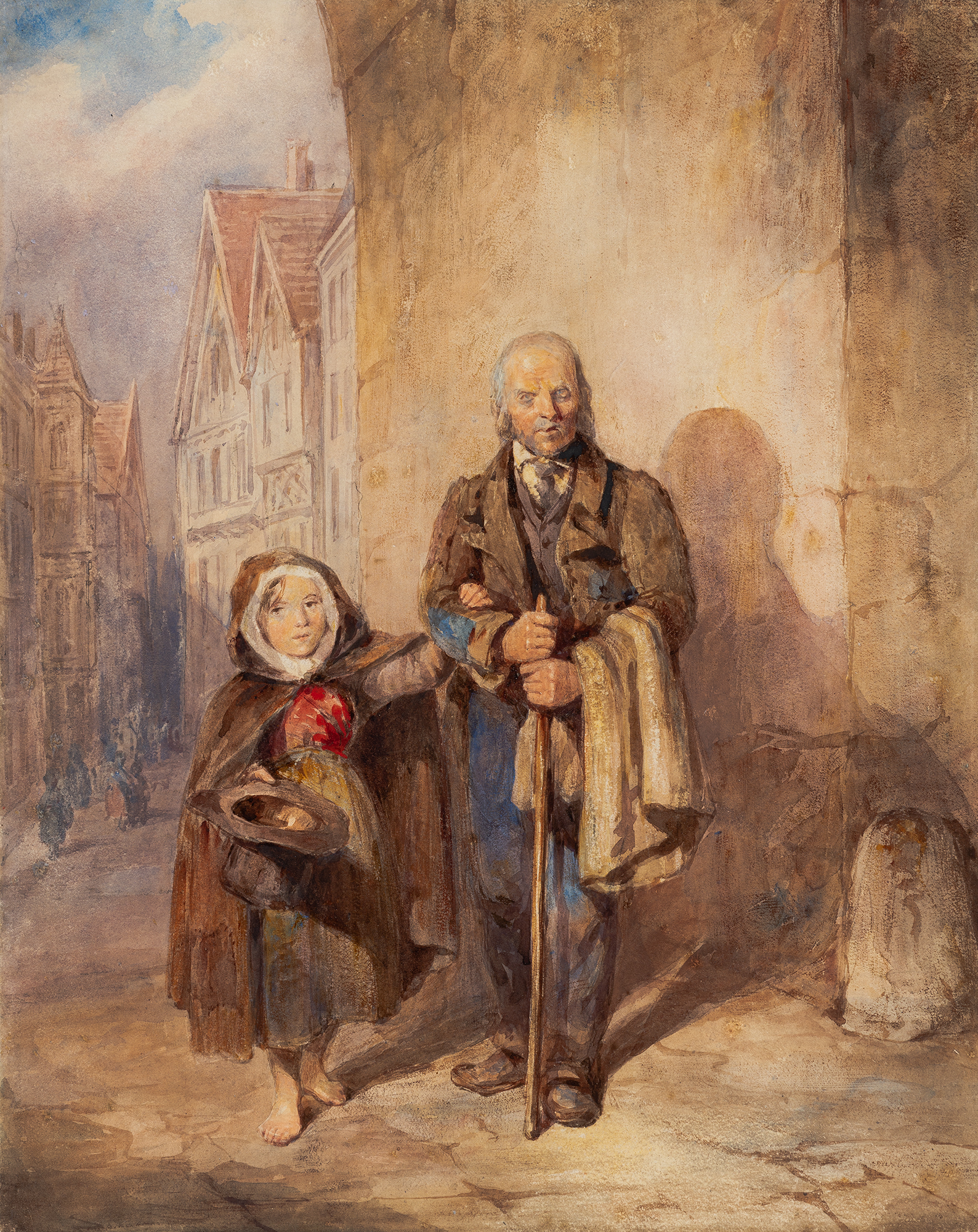 Alms for the Blind
Tayler, John Frederick
about 1850
---
Artwork Information
Watercolor and graphite on paper

Wichita Art Museum, Museum purchase, Virginia and George Ablah Fund
---
About the Artwork
Industrialized Victorian society generally preferred a realist art which depicted a commonplace incident rendered in literally understandable terms and one which at the same time often carried a hidden message with moralistic overtones. This striking painting titled Alms for the Blind and executed about 1850 by the English watercolorist John Frederick Tayler, illustrates that double tendency so well. Here beneath the arched gateway that opens onto the narrow lane of a town with its late medieval buildings shown in the background, a blind man carrying a long stick stands quietly with the assistance of a young barefooted girl dressed in tattered clothing. His long shadow falls heavily on the wall near which he stands and his empty hat is thrust forward by the little girl who stares directly into the spectator's eyes as she begs for alms, thus evoking sympathetic responses in us as we view the scene.
The drastically abrupt shift in scale between foreground and background and the rather theatrical manner in which the dominant foreground figures pre­sent themselves by looking directly toward us as spec­tators, as if about to intrude into our space, are quite typical characteristics of painting during much of the Victorian period. Indeed, it is through such composi­tional treatment that the artist captures and holds our attention and forces us to participate vicariously in the incident depicted.
As we view this work, we are thus reminded of the philanthropic appeals of Charles Dickens and of the general concern during the early and mid-Victorian period over social injustices, the impoverished and the handicapped. But the image of the blind also refers to man's spiritual blindness as described in Chapter 9 of the New Testament Book of John. And therein lies the other side of the moralistic message, which could so easily escape notice except for those Victorian viewers well versed in scriptural teachings.
John Frederick Tayler was born in 1802 in Hert­fordshire, England and studied at both Eton and Har­row. Although his family encouraged him to enter the Church, he chose painting as a career instead and worked with many of the major early 19th century art­ists both in England and in France including Bonington and Prout. He was elected to full membership in the Royal Watercolor Society in 1834 and became president of the Society in 1858. Tayler died in London in 1889.