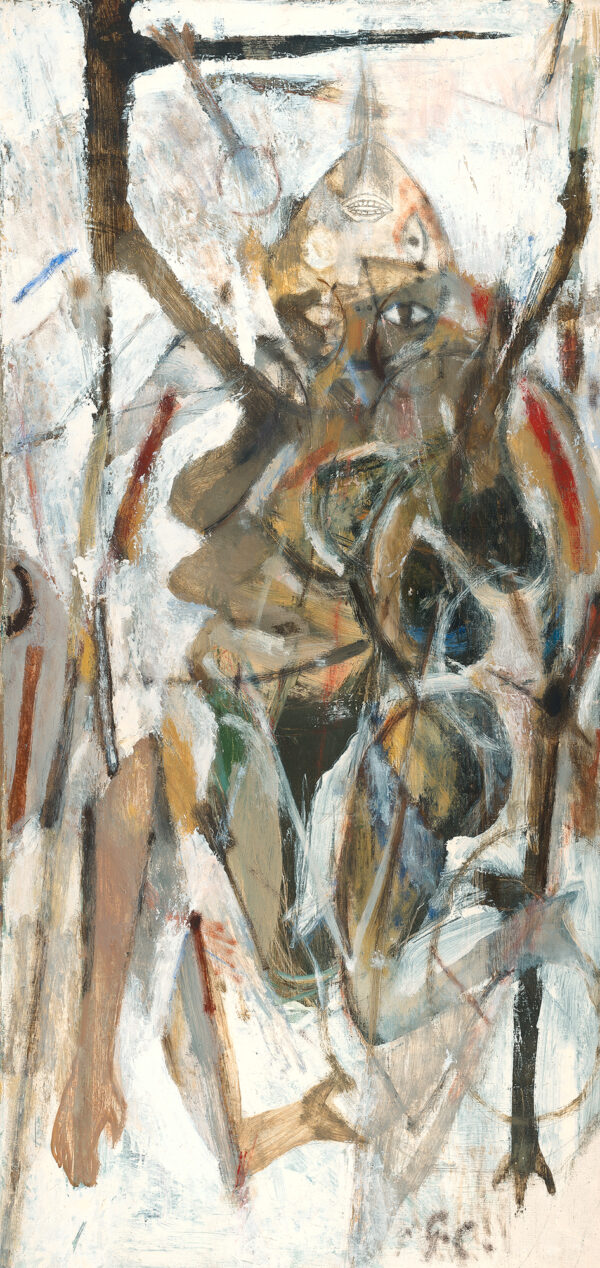 Aerialist
Cohen, George
1959
---
Artwork Information
Wichita Art Museum, Roland P. Murdock Collection
---
About the Artwork
George Cohen emerged as an influential figure in American art in the mid-1950s when he and some of his fellow Art Institute of Chicago graduates organized a coalition called Momentum to show their work in annual exhibitions. The group's central motive was to challenge the hegemony of the New York-based Abstract Expressionists and to assert an alternative Chicago–identity as the cocky delinquents of contemporary art. The group scorned nonobjective purity, using Surrealist/Dadaist collage methods and inspiration from primitive arts, and European art brut to create perplexing and often grotesque figurative images. Art critic Peter Selz characterized Cohen and fellow Momentum members, among them Cosmo Campoli, Leon Golub, and Joseph Goto, as the imaginers of a "new humanism" that comprehended a post-world war II sensibility of mass irrationality and brutality. The Aerialist provides an excellent marker of the emergence of a distinctive regionalist school of twentieth-century American expressionism.
Aerialist exemplifies the artist's enduring preoccupation with the female nude in all its archetypical significations and of his ability to create delectable surfaces of varied texture and layered luminous color.  And, although, the Chicagoan in the artist would surely protest, the imprint of De Kooning's Woman series is everywhere in this and related Cohen expositions of the space-eating-fleshiness, orgiastic-energy-explosiveness of that old devil-woman Eve: a fragmentary nude of numerous provocative parts in kinetic repositioning looms in colored silhouette against the surrounding, activated space of white impasto; full breasts thrust this way and that across the surface; a ripe buttock to the right, a dark lush pubic triangle front and center: cartoon chorus line legs with high-heeled feet/and or hooves spin across the surface reminiscent in effect of the running doggy legs in a Futurist painting; and to top it all a  rotating full face/profile face mask featuring multiple eyes and a parted mouth, teeth bared etched in the paint in scraffito.
During this same period Cohen produced imagery depicting or alluding to women in small assemblages and in collage-paintings incorporating found objects, particularly cosmetic-compact mirrors and plastic doll legs and arms, as well as dйclassй non-art materials such as aluminum foil. Cohen intended these vulgar materials to shake the viewer out of complacency of belief—to "shatter values" as he declared. The shock effect of Cohen's imagery and of his fellow Chicagoans has diminished with time. Today Cohen's delight in the life-serving force of the tartly comic resonates more clearly.