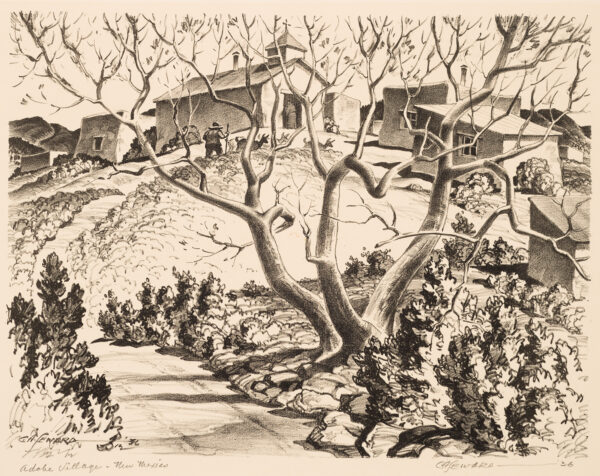 Adobe Village—New Mexico
Seward, C. A.
1936
---
Artwork Information
Wichita Art Museum, Gift of Leta M. Smith
---
About the Artwork
C.A. Seward (American, 1884-1939)
Adobe Village – New Mexico, 1936
Lithograph on paper, 9 1/16 x 11 13/16 in.
Wichita Art Museum, Gift of Leta M. Smith
1988.27.6
            C.A. Seward, who came to Wichita in 1908, led a full life as artist, commercial art director, teacher, author and promoter of the arts. Although he painted some 20 canvases and experimented with the woodcut and etching media, his principal talent was lithography. During his career, Seward received numerous awards for his prints, had many solo exhibitions including one at the Smithsonian Institution in 1931, and saw his work enter such major museums as the Chicago Art Institute, the Bibliotheque Nationale in Paris, and the Victoria and Albert Museum in London. Chief among his writings on printmaking was a textbook entitled Metal Plate Lithography.
            Seward earned his living as one of Wichita's earliest commercial artists. He was head of the art departments of the Southwest Advertising Company, the Capper Engraving Company, and the Western Lithograph Company. In these positions he set high standards for the design and printing of business literature. While at Western Lithograph, Seward also established a printing service for artists.
            Seward devoted much of his time to helping artists get training and recognition. He instructed artists in his home studio, organized exhibitions, wrote reviews and played a principal role in the founding of the Prairie Print makers. As Secretary-Treasurer of that organization for the first eight years, Seward did the tedious work which insured the society's success. In addition, Seward persuaded the Wichita Public Schools to begin an art acquisition program, which secured for Wichita such fine works as John Steuart Curry's painting of his Father and Mother.
            Seward designed posters for the Food and Drug Administration during World War I and served on the Kansas art committee for the Works Progress Administration during the thirties. As a graphic artist he created approximately 120 prints on Kansas and New Mexico subjects.