Job & Volunteer Opportunities
---
Community Partnership Coordinator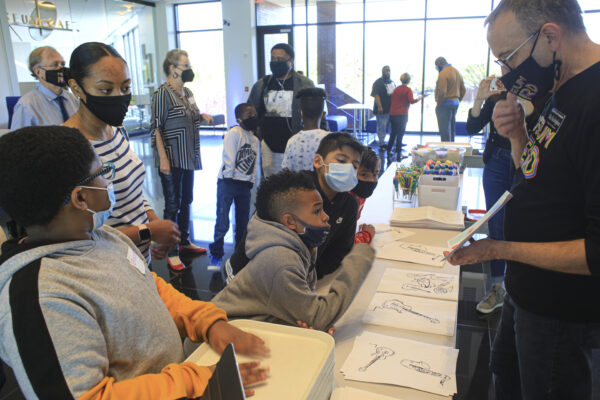 Tenacious Men — April 2021
The Wichita Art Museum—in the largest metropolitan area in Kansas and with a premier American art collection—seeks a team-oriented Community Partnership Coordinator to further the museum's involvement in and across Wichita. The museum stands at an exciting moment in its history—with a new Diversity, Equity, and Inclusion Policy plus growing annual attendance and community impact. The prized Roland P. Murdock Collection anchors the museum and features masterpieces of American art.
A new position, the Community Partnership Coordinator will report to the Curator of Education and collaborate with others in the museum's Education Department to develop and offer a wide range of public programs. These activities stimulate curiosity and knowledge about art and its role in our lives as well as promote open dialogue and active engagement. WAM strives for public programs that are meaningful, engagement-driven, and relevant to the Wichita community. The Community Partnership Coordinator will both develop new relationships and imaginative community collaborations and coordinate ongoing and newly launched programs shared with other organizations. In a strong desire for increased relevance and inclusiveness at the art museum, the Coordinator will build relationships, trust, and partnerships with organizations across neighborhoods and community groups, sometimes well beyond the cultural sphere.
Working as part of an energetic and collaborative WAM team, the Community Partnership Coordinator contributes to WAM's mission to bring "people, ideas, and American art together to enrich lives and build community."
Responsibilities include:
Build partnerships for shared programs that enhance community engagement.
Develop relationships with community groups, educational representatives, and local artists to ensure WAM programs are well received, often with individual program goals for targeted constituencies.
Develop opportunities to engage all visitors in the life and experience of the museum, partnering with other staff, board, and volunteers to advance access, inclusion, and diversity initiatives.
Work collaboratively with Curator of Education and department staff plus area colleagues to develop compelling programs that align with the Strategic Plan and help all visitors to enrich their lives through meaningful educational and personal connections with works of art.
Develop and implement interdisciplinary programming for a full range of audiences:

For youth, including early-childhood programs, school field trips, after-school engagement, family activities, alternative educational settings, holiday and vacation programs, and weekend and summer camps.
For adults, including performances, conversations, films, lectures, music events, art-making activities, symposia, arts workshops, and outdoor festivals.

Accurately collects and analyzes program evaluation data, prepares assessments, and makes recommendations regarding program additions or changes.
Be a positive team member, working to sustain the collaborative, creative culture that will permeate into the visitor experience and provide a positive, constructive work environment.
Work with Curator of Education and other departments to develop and prepare grant applications relating to public programming.
Establish and maintain relationships with other museum and art educators locally and regionally.
Remain abreast of evolving issues in the art world and museum field as they relate to lifelong learning, art interpretation, and visitor engagement.
Performance will be measured by growth and diversity of partnerships, increase in attendance, and other metrics.
Other duties as required. These examples are not intended to be all-inclusive.
Job Requirements:
Bachelor's degree required. Degree in humanities preferred.
At least two years public program coordination and/or management required; additional experience with program development and coordination preferred. An equivalent combination of education and experience may be considered.
Ability to articulate a vision for public programming and community impact.
Ability to synthesize complex information for communicating with the general public.
Strong public speaking plus verbal and written communication.
Ability to prioritize and multi-task activities without close supervision. Exceptional organizational ability.
Demonstrated ability to work collaboratively as part of a team—strong interpersonal skills.
Exceptional ability and commitment to accuracy and attention to detail.
Ability to commit such hours as necessary to complete assigned responsibilities, including evening and weekend work.
Ability to move about quickly throughout the facility and outdoors for extended periods of time.
Experience with standard office software applications including Microsoft Word, Excel, Outlook.
Ability to maintain a valid Kansas driver's license.
An employee shall not pose a threat to the health or safety of other individuals in the workplace.
Salary commensurate with experience; salary range from $36,000 to $45,000. To apply, email (1) cover letter outlining qualifications, (2) resume, and (3) three references with contact information to poynter@wichitaartmuseum.org. Position will be open until filled.
The Wichita Art Museum opened in 1935 and is home to the Roland P. Murdock Collection, one of the premier collections of American art. With a nationally distinguished collection, Edward Larrabee Barnes facility, $4 million annual budget, staff of 24 full-time, 32 part-time, and a corps of 100+ volunteers, the museum is a public/private partnership, owned by the City of Wichita and managed by Wichita Art Museum, Inc. Accredited by the American Alliance of Museums, the Wichita Art Museum's mission brings people, ideas, and American art together to enrich lives and build community.
Offer of employment will be made contingent upon passing a drug screening and background check. The Wichita Art Museum is an Equal Opportunity Employer and offers veteran's preference to applicants who meet eligibility requirements. Must be legally authorized to work in the United States without the need of sponsorship.
---
Museum Store: Part-Time Sales Associate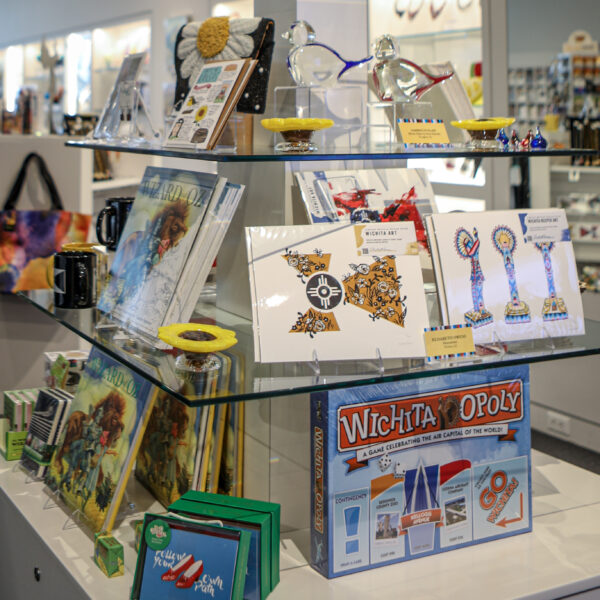 Museum Store — December 2021
The Wichita Art Museum is looking for an enthusiastic, reliable, outgoing Part-Time Museum Store Sales Associate to provide museum store customers with an outstanding shopping experience and the highest level of customer service. Sales, merchandising, stock work and participation in store and museum events are all part of associate responsibilities. This position reports to the Museum Store Manager. This position is for weekends with some weekday flexibility.
Primary Responsibilities:
Provide excellent customer service by exhibiting a positive attitude and enthusiasm.
Actively engage customers and remain attentive to customer needs as a way to maximize sales.
Assist customers with product selections and process all customer orders and returns.
Assist with inventory receiving, tagging or ticketing and merchandising on the sales floor.
Proactively attain product knowledge and be able to share that with co-workers and customers.
Meet and exceed store standards in customer service, product merchandising and maintenance of all work areas and store sales floor
Participate in store special events, training and meet Museum initiatives.
Assist with any website store order fulfillment to include shipping if necessary.
Assist with all store prep and recovery as needed for special or private events.
Promote teamwork by working with store and other WAM staff effectively, safely, respectfully and efficiently.
Schedule:
Part-time position of approximately 10+ hours per week.
Store operates Tuesday-Sunday from 11am-4pm, with late hours for special events.
Required Skills and Experience:
Must have weekend availability.
Strong, proven experience in retail sales and customer service.
Outgoing and enthusiastic personality.
Collaborative nature and ability to work both independently and as a team member.
Comfortable with interactions at all levels of management, staff and the public.
Maturity to accommodate frequently shifting priorities calmly and professionally.
Superior organizational and communication skills, other verbal and written.
Must be able to lift 35 lbs. May require the ability to acquire and maintain a valid driver's license.
Position involves frequent standing and walking.
Computer competency and skills such as Microsoft Office suite.
Ability to accurately handle money.
To apply: Send an email with a resume and qualifications to store@wichitaartmuseum.org.
The Wichita Art Museum, Inc. is an equal opportunity employer. Applicants are considered for positions without regard to veteran status, uniformed service member status, race, color, religion, sex, national origin, age, physical or mental disability, genetic information or any other category protected by applicable federal, state, or local laws. Offer of employment will be made contingent upon passing a drug screening and background check. The Wichita Art Museum is an Equal Opportunity Employer and offers veteran's preference to applicants who meet eligibility requirements.
---
Become a WAM Docent
WAM Docents – May 2021
Are you interested in being on Team WAM? Do you have what it takes to get excited about all forms and genres of American art? Do you enjoy sharing your enthusiasm with groups of school children? Are you looking for opportunities to keep engaged and active and give back to the Wichita community? WAM is looking for you.
WAM trains volunteer tour guides to provide exceptional educational tours for visitors to the museum. Docents undertake training to learn about art history, museum education, touring and interactive strategies, and communication skills. Being a docent at WAM encourages greater visual and cultural literacy, fosters lifelong learning, and creates lasting friendships. For more information, email education@wichitaartmuseum.org.