Jobs & Volunteer Opportunities
---
Position Opening: Gallery Attendant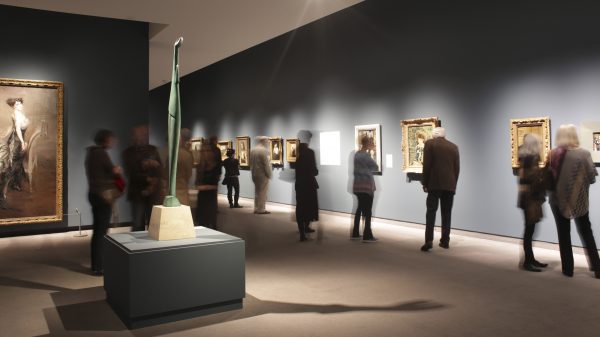 Monet to Matisse exhibition at the Wichita Art Museum – February 2018
The Gallery Attendant at Wichita Art Museum entails specialized work that encompasses strong visitor service as well as surveillance and security duties. The Gallery Attendant interacts positively with the public who visit museum galleries and attend museum programs. They prevent disorderly conduct and/or damage to works of art and museum property. The Gallery Attendant must work independently and use discretion and judgment handling situations that arise. The Gallery Attendant may coordinate a team of other gallery attendants to balance and effectively execute daily security functions. The Gallery Attendant position requires flexible scheduling, including work during evening events and weekend open hours and/or events.
Essential Functions:
Provides direction and information to the public.
Monitors security of property, especially art works on display, against fire, theft, and vandalism.
Makes daily superficial examination of art works on display and records/reports any evidence of damage or deterioration.
Maintains discipline in and around the building and grounds.
Perform crowd control functions as needed.
Contacts maintenance staff as needed.
Contacts law enforcement as needed.
Opens and closes the Museum. Operate and monitor electronic security system and cameras.
Directs visitors in evacuation of premises at times of emergency.
Ensures that adequate lighting is provided when and where needed.
These examples are not intended to be all-inclusive. Other duties and responsibilities may be assigned as needed.
Requirements of Work:
Ability to patrol area of responsibility quietly on foot.
Ability to identify and report hazardous conditions and unusual situations.
Ability to quickly respond appropriately to and report fires and disturbances.
Ability to comprehend simple notations from a logbook.
Knowledge of electronic security system operations.
Ability to understand and follow oral and written instructions, rules, and procedures.
Ability to exercise good judgment in handling emergency situations and/or unruly individuals.
Ability to recognize a needed repair and report it to a supervisor.
Ability to lift and carry a minimum of 50 pounds up to 20 feet approximately three times per day.
Ability to push carts with 60 pounds' resistance up to 50 feet while walking approximately three times per day.
Ability to bend, twist, turn, and reach as needed to perform normal job tasks.
Ability to use hands and wrists for turning, grasping, gripping, pinching, and finger manipulation as needed to perform normal job tasks.
Ability to ascertain security system alarm conditions visually and audibly.
Ability to stand continuously for a minimum of two hours at a time.
Ability to monitor some areas by video display monitor.
Ability to stand and walk at least five hours daily.
Ability to climb a 10-foot ladder on a daily basis.
Ability to develop and maintain physical alertness and reliability.
Ability to run and move about quickly.
Ability to communicate clearly and effectively, both orally and in writing.
Ability to develop and maintain effective working relationships with associates, representatives of other organizations and the public.
Ability to acquire and maintain a valid driver's license.
An employee shall not pose a direct threat to the health or safety of other individuals in the workplace.
Qualifications: 
Bachelor's Degree preferred.
Previous knowledge of guard methods and practices preferred.
Previous experience in a museum, zoo, or not-for-profit sector is a plus.
Familiar with basic life safety regulations.
Proficient with standard office software applications including, Microsoft Excel, Outlook, and Word.
Proven ability to work closely in interdepartmental teams, and manage the safe completion of projects, which have large impact on the basic functions of the institution.
To apply: Send email with resume/qualifications to jobs@wichitaartmuseum.org.
The Wichita Art Museum opened in 1935 and is home to the Roland P. Murdock Collection, one of the premier collections of American art. With a nationally distinguished collection, Edward Larrabee Barnes facility, $4 million annual budget, staff of 24 full-time, 32 part-time, and a corps of 100+ volunteers, the museum is a public/private partnership, owned by the City of Wichita and managed by Wichita Art Museum, Inc. Accredited by the American Alliance of Museums, the Wichita Art Museum's mission brings people, ideas, and American art together to enrich lives and build community.
Offer of employment will be made contingent upon passing a drug screening and background check. The Wichita Art Museum is an Equal Opportunity Employer and offers veteran's preference to applicants who meet eligibility requirements.
---
Become a WAM Docent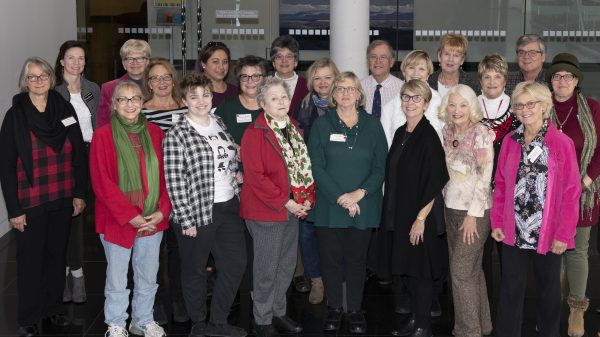 WAM Docents – December 2019
Are you interested in being on Team WAM? Do you have what it takes to get excited about all forms and genres of American art? Do you enjoy sharing your enthusiasm with groups of school children? Are you looking for opportunities to keep engaged and active and give back to the Wichita community? WAM is looking for you.
WAM trains volunteer tour guides to provide exceptional educational tours for visitors to the museum. Docents undertake training to learn about art history, museum education, touring and interactive strategies, and communication skills. Being a docent at WAM encourages greater visual and cultural literacy, fosters lifelong learning, and creates lasting friendships. For more information, email education@wichitaartmuseum.org.