---
Who We Are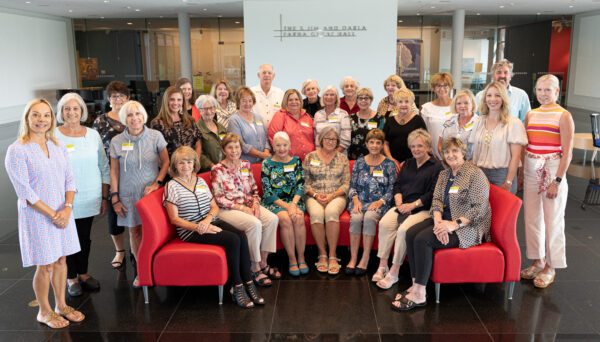 Friends of the Wichita Art Museum – October 2021
If you are passionate about art and love your community, consider becoming a "Friend." Since 1960, the Friends of the Wichita Art Museum (FWAM) has dedicated time, talent and treasure to one of Kansas' premier art museums, located in the heart of the Museums on the River district, and we've had enormous fun along the way. We are a body of men and women that has worked tirelessly to fulfill our mission to establish a permanent endowment for art acquisitions, exhibitions, and educational opportunities for the Wichita metropolitan community.
In February 1997, the Friends established what has become in more than a decade a $2 million+ endowment through its chief fundraising activities, including book sales, Art on a Monday (luncheon and presentation), and the Howard E. Wooden Lecture Series, a yearly event that spotlights an important area of American art.
If all of this isn't enough fun, add trips to museums throughout Kansas and neighboring states, throw in a couple of parties a year, monthly board meetings with like-minded individuals, and you have a recipe for community service and lifelong friends.
---
Friends of the Wichita Art Museum Board of Directors
Officers
Janet Wright – Chair
Betsy Sweeney – Vice Chair
Sue Poston  – Secretary
Dennis Murphy – Treasurer
Board of Directors
Gaylene Alderson
Joy Archer
Kenneth Arnold
Susan Arnold
Hamid Bakhtiari
Joan Barrier
Patty Bennett
Bob Blackburn
Bunny Broeckelman
Mickie Brown
Helen Bullock
Gena Dillard
Karla Fazio
Stephanie Frey
Joanie Gegen
Stephen Gleissner
Carol Glidden
Suzanne Graham
Trina Harmon
Judy Hess
Connie Kendall
Betty Krehbiel
Lindsey Lane
Libby Merritt
Marianne Misko
Kelly Momsen
Diane Post
Jo Ann Pottorff
Linda Peressin
Linda Ralston
Jaclyn Reilly
Lanita Roark
Sally Robson
Sheila Shaw
Julie Scherz
Nancy Shawver
D. J. Spaeth
Valerie Spikes
Jane Sudermann
Marilyn Wallace
Susan Wilhite
Leslie Wilson